<![if !vml]>
<![endif]>

<![if !mso]><![endif]>

Steve Lawing announces features added during 2009
Seems like every year about Christmas time Tom and I reflect back on what we have learned during the past year and how we might use that knowledge to improve our 356A products. We feel the development of this iconic replica should not have stopped with 1965 technology as has been done with the VW versions so we move forward every year.
This year we came up with a few that we feel are very significant and will greatly improve the handling, enjoyment, and safety of our cars. We are all for that.
1. Knowing that everyone is not my 5'-11" height we felt that we could probably increase the legroom in the pedal foot well so that a person 6'-5" could stretch out in our car. We accomplished that by moving the firewall forward 1-1/2" . Tom who is 6'-3" can sit with his legs stretched out and not touch the pedals. So for you tall guys we have what you needů.and there is more.
2. When we moved the firewall forward it necessitated forward movement of the original 15 gallon gas tank. That movement began to crowd the trunk and take away what precious little space that was there.
So we decided to make a big change and install a 16 gallon safety fuel cell in its place.
To do that required moving the fuel cell further forward and lower. After we surrounded the new tank with structural protection we suddenly had a larger trunk and a greater fuel capacity as well, plus the increased safety of a fuel cell. Additionally, the forward movement and greater capacity tank surrounded by the protective structure caused a weight shift that further enhanced our desirable mid-engine weight bias.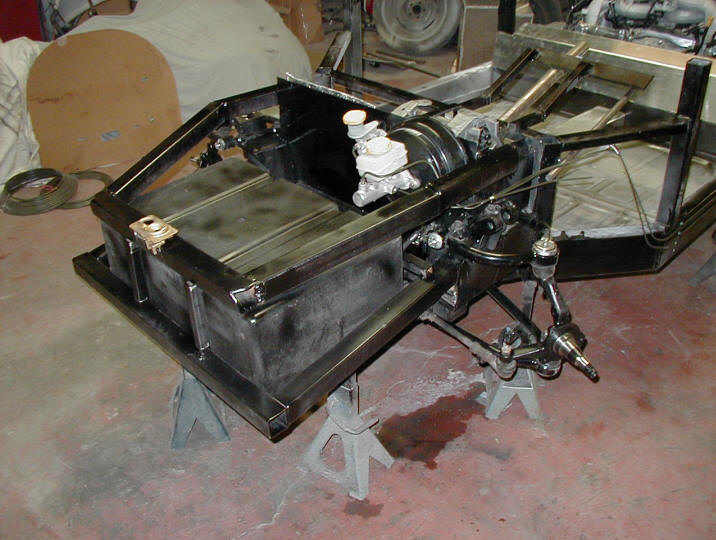 3. When these two improvements were made we noticed that we had room to make a very significant upgrade.
We now have power assisted brakes - the only 356 replica to have them

This was not possible in the past because of the space limitations, but the changes to legroom and tank location changed all of that. Having 4 wheel power assisted disc brakes is unheard of in the 356A replica market, but like so many of our standard features not any longer.
In case you have not been keeping up with our continuing improvements program here is a short list:

1. Hot water Heat-AC-defrost is now more powerful, has bi-level flow adjustment, has incremental heat and cool selection for a more precise temperature. All of this is accomplished with electronic servo mechanisms and not cables or vacuum servos. All of this is hidden from view and does not infringe upon foot room or aesthetic appearance.

2. Rear suspension has been changed to accommodate the Legacy GT type. This has greater alignment sensitivity, allows for a lower ride height, and uses coil over adjustable shocks.

3. Many of our body molds have been upgraded to accommodate numerous appearance, fit, and strength improvements.

4. Cabriolet convertible top has been revised to accommodate easier opening and closing, tighter fit, as well as being lighter weight.
This year's crop of changes was a good one for sure. You can rest assured that the Specialty Auto-sports, Inc. lineup of Speedsters, Cabriolets, and Coupes remains unsurpassed in quality, performance, appearance, and enjoyment. We are not stuck with 1960's technology and 45 year old products, inaccurate appearance, and woefully devoid of creature comforts, but rather incorporate a modern approach to this venerable icon. Yes you can have your cake and eat it too !
So if you value:
1. comfort
2. correct appearance,
3. unsurpassed handling,
4. state-of-the-art power braking,
5. modern overhead cam fuel injected engines,
6. modern transmissions (5 speed or automatic),
7. structural occupant protection,
8. weather proofness,
9. power windows,
10. extra interior room,
11. a rear useful trunk space,
12. 35-40 mpg,
13. only the best materials,
14. a maintenance minimum reliable driveline
you should look closely at the comparison with the VW versions to make sure you get what you are expecting.
Happy New Year to everyone

Steve and Lisa

865-925-2500