<![if !vml]>

<![endif]>

<![if !mso]><![endif]>


Steve Lawing announces new features added during 2010
Other 356 replica companies continue to build their VW based cars in the same manner with the same 45 year old technology and methods for the last 30+ years ….
Since driving conditions, fuel prices, safety requirements, and ecology concerns have changed since 1965 Specialty Auto-sports, Inc. welcomes you to the 21st century
We continue our tradition of never ceasing development of our 356A replicas which has produced even more improvements to driver safety, performance, ergonomics, convenience, and value.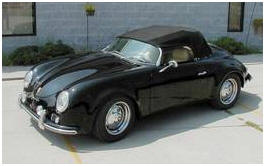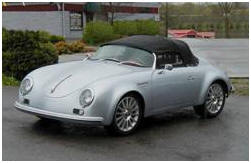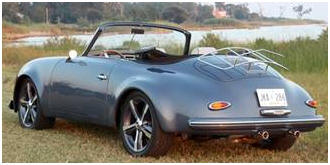 This year we came up with a few more improvements that we feel are very significant and greatly improves the handling, enjoyment, and safety of our cars.
1. ERGONOMICS - why not be comfortable driving your 356 replica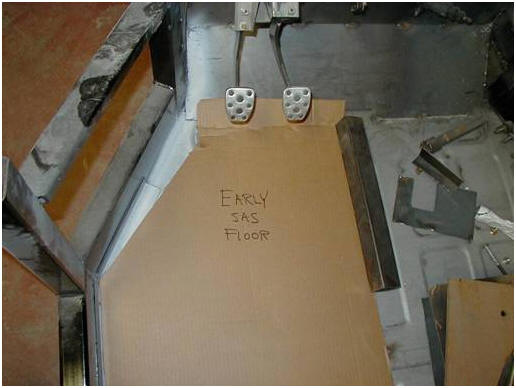 EASIER ENTRY - We also reconfigured the "A" hinge pillar to make entering and exiting the car easier.

GREATER LEAN BACK - Additionally we altered the rear engine cover and bulkhead to allow for even more reclining of the seat back as well as some more rear slide.

LEG ROOM - Driver and passenger comfort is at an all time high - Lisa can't lean back at the rear seat position and reach the Steering wheel or pedals - slide forward Lisa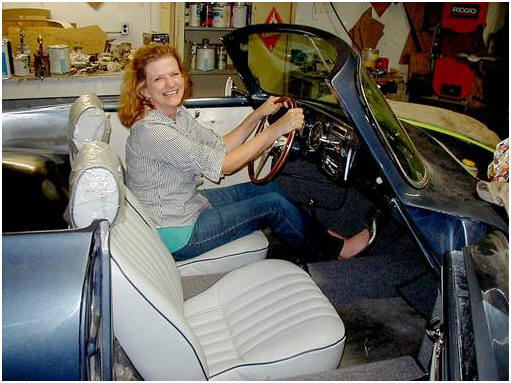 HEADROOM -

you don't have to worry about driving and looking over the top of or have your vision blocked by the windshield frame as in other 356 replicas .

Your head won't hit the roof in our Coupe

Our correct 356 steel floor pan is 2-1/2" lower than the VW pan cars and even lower than some others. Being "down" in the car improves visibility and virtually eliminates wind buffeting and noise.
2. CONVENIENCE -
3. SAFETY -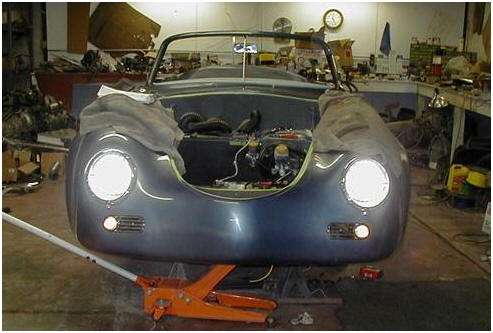 4. PERFORMANCE - just adding power to your 356 replica is only part of the challenge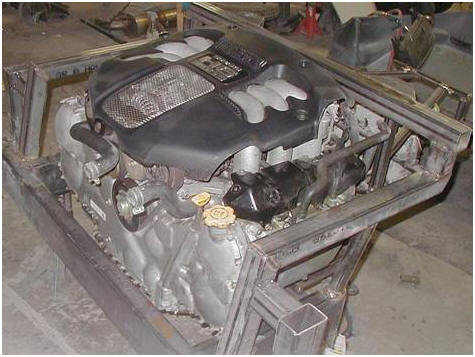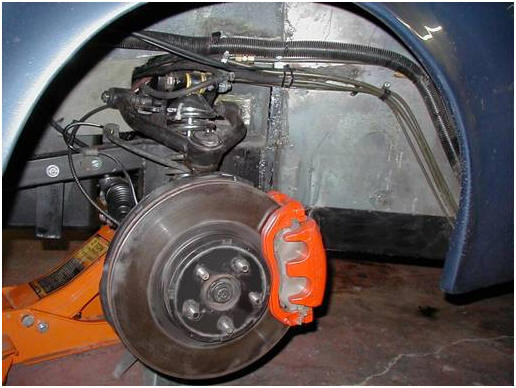 This year's crop of changes was a good one for sure.
You can rest assured that the Specialty Auto-sports, Inc. lineup of Speedsters, Cabriolets, and Coupes remains unsurpassed in quality, performance, appearance, and enjoyment.

We are not stuck with 1950's technology and 45 year old products, inaccurate appearance, and woefully devoid of creature comforts, but rather incorporate a modern approach to this venerable icon.

Yes you can have your cake and eat it too !
5. So what are "some" of the significant features of the SAS 356A replicas? How do they compare with a typical VW version ? Would you really want to do without any of these ?
Here is a short list - (there are many many more)
comfort -
greater foot room and leg room

Roadster seats - recline, lean, slide (ever wonder why VW speedsters don't offer these seats? the VW pan is too narrow)

quieter engines (no VW clacking rocker arms, cooling fan, sheet metal vibrations, resonating cooling fins)

increased sound deadening throughout

power windows -coupe and cabriolet

noise level very low - allowing conversations at 70+ mph

extra interior room - correct 4" wider (than VW) floor pans dropped 2-1/2" for more headroom

powerful hot water heat and defrost- bi level controls (optional AC)
correct appearance -
Correct interior upholstery design -standard

Original square weave carpet -standard

high quality top/boot/tonneau fabrics -standard

body panels molded from original cars - no drooping rear body on our cars
unsurpassed handling
very low center of gravity/ very low polar moment of inertia

mid-engine performance and assurance - no rear engine tail heavy attributes

power assisted 4 wheel disc brakes with ABS

rack and pinion steering
modern overhead cam fuel injected engines (2005-2011 model year)
170hp SOHC fuel injected standard

up to 275 hp Turbocharged DOHC optional

H6 3.0/3.6L six cylinder (212/256hp) optional
modern transmissions (5 speed or automatic)
structural occupant protection
welded diagonally braced space frame

doors with welded inner steel structure

crush structure front and rear
weather protection
convenience
a rear useful trunk space - weather proof and locked

35-40 mpg - emissions correct and functioning

a maintenance minimum reliable driveline

remote power door opening - coupe/cabriolet
ecology responsibility
all of our cars come equipped with the legal, factory correct emissions devices which not only assure peak operating efficiency at all times and conditions, but also make the world a healthier place
Call or Email
Steve Lawing
865-925-2500