WHAT'S NEW AT
SPECIALTY AUTO-SPORTS, INC. ?________________________________________
Next Ed decided he wanted to attend a gathering of original 356A Porsches in his area and here is his description:
"This past week end the NE 356 club went on their annual Spring Tour.
This year they went to the Trapp Family Lodge in Stowe, VT. I was able to participate in the fantastic car that you built for us.
The car was one of two reproductions at the event. (The other was a emerald green Intermecanica Speedster, a very pretty car. There were a total of 40, 356 Porches all of different vintages and configurations.
Beautiful machines. That said, the one that stole the show was our car Stephen!!!!! Everyone of the spectators just loved the car. (As expected some of the purist club members did not like the it for the obvious reasons, but the president of the club came over and personally expressed how awesome the car was and that he loved it; and he is a diehard Porsche guy!) There was even a couple from South Africa that came and drove a 1954 yellow, hardtop Speedster, and they loved the car.
I owe this all to you. Thank you!!!!!!!!
The car performed flawlessly and my wife Gloria loved the way it rode.
Oh, the description that one young man gave of our car was, "It has all of the elements if a classic car, combined with the modern amenities of a modern car while exhibiting a streak of hotrod." I liked that very much for it truly represents what this wonderful work of art this car is."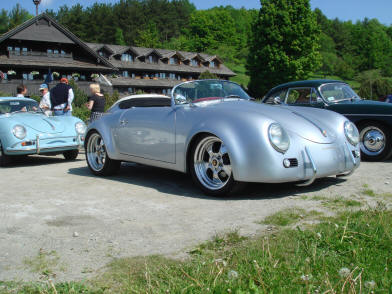 If that were not enough Ed decided to go to another event:
" This was at the Endicott Estate Car Show last Sunday. Over 600 cars!
The 356 took 3rd place and the 550 took 1st"