Newsletter September 2011 ********* Specialty Auto-Sports, Inc.
Steve Lawing of Specialty Auto-Sports, Inc.
announces delivery of another special 356A replica
Eric's 356A Speedster - 2.5L 170 hp, mid-mounted SOHC Boxster water-cooled engine, fuel injection, 5 Speed Manual Subaru transaxle, 4 wheel power assisted disc brakes, a true diagonally braced welded structural tube frame, steel reinforced doors, 4 coil-over adjustable shocks, rack and pinion steering, high performance suspension, leather, Heat-defrost, AM-FM-iPod (USB,MP3,SAT), Copper Red Metallic color, did I mention it is EPA emissions legal ?? ......much more see below
Power - Handling - Comfort - Reliability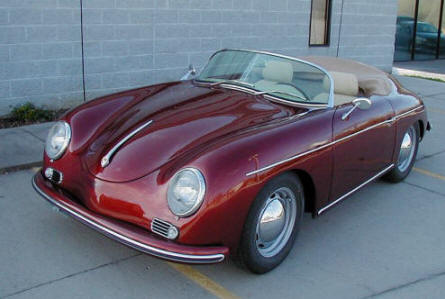 Want to see more of this car ?? Click right here
Contact:
Steve Lawing at Specialty Auto-sports, Inc.
865-925-2500
See what else Specialty Auto-Sports, Inc. has to offer www.specialtyauto.com/PORSCHE.htm